Illuminate High School simply has a lot of fun, laughs a lot, hangs out, and studies God's word every Wednesday night (except the last Wednesday of the month) from 7-9pm.

Our one rule is that there are no perfect people allowed. Illuminate High School longs to create an atmosphere that is welcoming to everyone in High School. We also put on sweet monthly events and also have some pretty legendary retreats. Our High School students, just like our church, have the vision of leading people to believe and live as followers of Jesus Christ. We lead students to believe through worship, teaching from the Bible, and discussions about who God is and what that means for us.

Every Wednesday night, High School students can expect to play some incredibly fun games, hear about Jesus and dive deeper into relationship with one another in small groups. Our team of adult counselors are ready, willing and able to dive deep with your students and help model what it means to live for Christ.

If you are high school aged, please come by and check us out!


P.S. Speaking of epic retreats, we are planning on taking our High Schoolers to this year's CHIC. If you have no idea what CHIC is, check out the official website. Our goal is to take as many students as possible, so if you are interested, please contact Jeff Kaetzel as soon as possible.
Tell me more about CHIC!
SUMMER SCHEDULE AVAILABLE!
Join us this summer for some epic fun nights!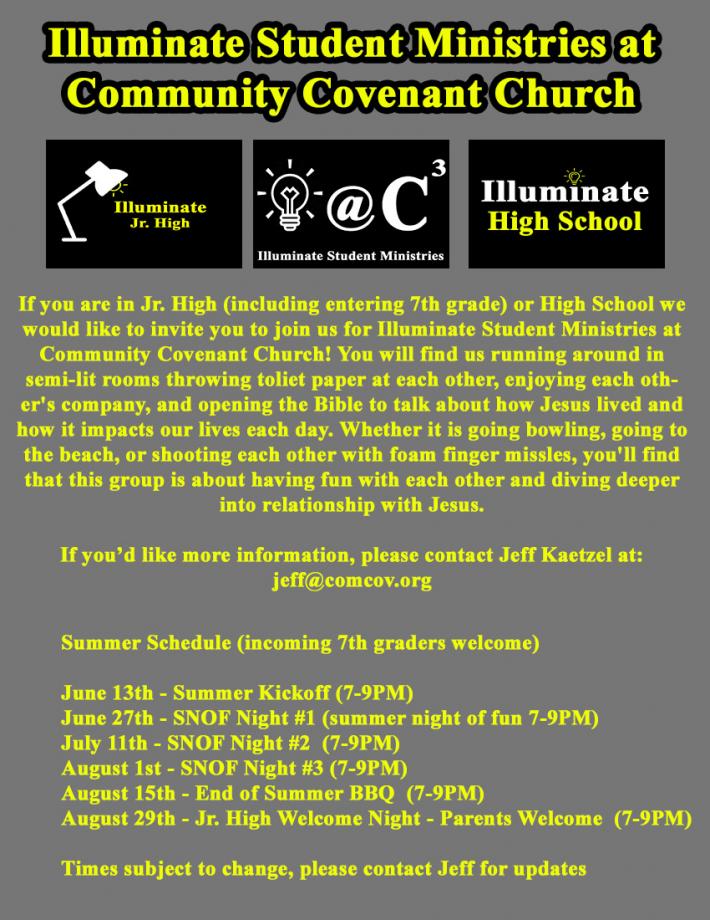 For more information contact: